Once upon a time in a land far far away…  Actually, back in 1998 a show called Sex and The City premiered and my eyes were opened to all of the amazing fashions out there that I did not know about living in the Midwest.  When SATC first came out I was deep into being a mommy and basically wore what worked and was easy to wash.  But watching this show I had dreams of being like the ladies of this show.  Let me rephrase that, I wanted to wear clothes like them not have sex escapades like them.  I did try a Flirtini once and the drink wasn't half bad.
When the first SATC movie came out I went to see it with a friend of mine and I fell in love with the shoes that Carrie eventually married Big in.  Those gorgeous blue satin Manolo Blahnik 'Hangisi' shoes which now come in a rainbow of colors.  Nobody to this day that I know of calls these shoes by their name, they are always referred to as "Carrie's wedding shoes."  We all dreamed of owning these shoes and being romantically swept off our feet – blah blah blah.
Today I went shoe shopping at Saks and I HAD to finally try them on.  I needed to go up a full size in them because of the cut and pitch of the shoe.  I feel as though I have finally fulfilled that fantasy of wearing "those" SATC shoes.  The pair I tried on were navy colored but what the heck!  Close enough.
While I was there I noticed they had their pre-sale racks out.  Uh oh!!  And look at what I found on them.  Normally I cannot wear Jimmy Choo shoes because they are just too narrow for me and I don't have a wide foot.  But there they were and on a 30% off sale too.  Yeah – had to try these on too and they fit just great!  A first for me and this brand.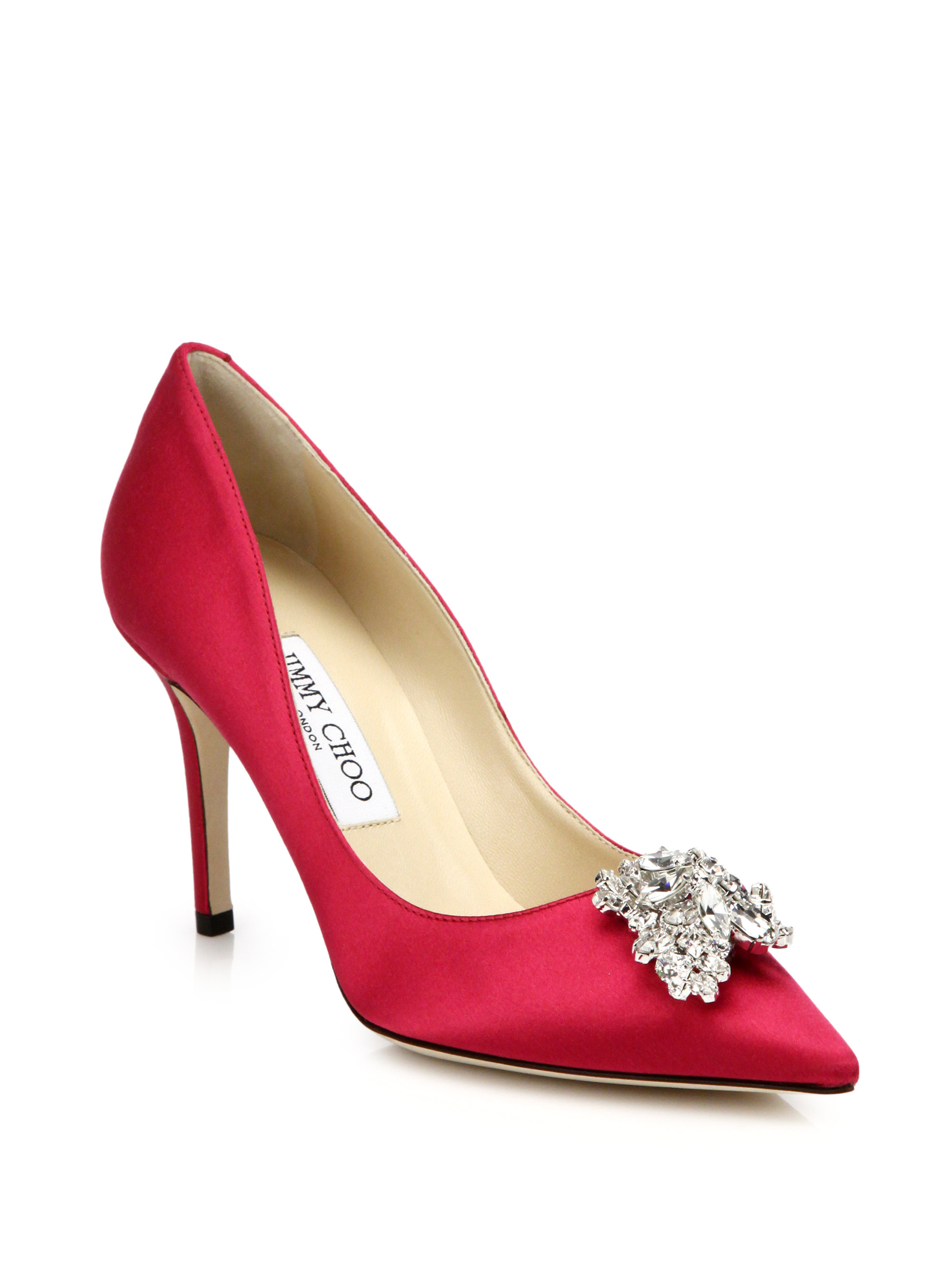 Sorry if the image is a bit fuzzy, forgot my camera and cell phones were being a bit temperamental.  But I think the pink shoes go quite well with my rolled up boyfriend jeans and my striped pink shirt.  While I could rock these shoes with the jeans I was wearing,  I think I'd wear a silk shirt instead or wear this shirt with some skinny jeans and the shoes.
In the end I came home with a new pair of shoes but which ones do you think I picked?  Which one would you choose?
Until next time ♥
(Big thanks to Lindsey for letting me live out a shoe fantasy.  Could you use a personal shopper who will hook you up?  Get in contact with and follow my girl, Lindsey Drahos.  She is the Saks, Columbus, Ohio lady who can get it done for you no matter where you live!  Follow her on Instagram –  @lookin_so_saksy  or  give her a call – 614-678-4616.  This is not a sponsored post, I just adore shopping with her; she is the best)
Manolo Hangisi shoes here
Jimmy Choo Mamey shoes here
Gap boyfriend jeans (old pair mine) Similar here
J Crew shirt (old mine) Similar now on sale here